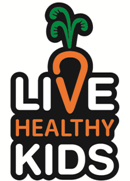 Kids are far more likely to enjoy healthy, whole foods as adults if they are able to try them as a child.
Live Healthy Kids gives them this opportunity.
Live Healthy Kids is a twenty-two week, hands-on cooking, nutrition, and physical activity program created by Live Healthy Appalachia in Athens,Ohio. Live Healthy Kids familiarizes students with new foods, particularly fruits, vegetables, whole grains, and legumes; improves students' ability and willingness to make healthy food choices through better knowledge of nutrition; and encourages students to increase daily physical activity. Together, we are helping kids eat better and live healthier!
Childhood obesity has become a nationwide epidemic with serious consequences to the long-term development of these children. Poor childhood health also affects a child's self-esteem and academic achievement. In order to combat childhood obesity and improve lasting overall health of our communities, children must be educated in healthy eating and lifestyle habits at an early age. The Live Healthy Kids program teaches and engages children using a multi-sensory approach, introducing them to eating, moving, and thinking in a healthy manner.
Program Details: Live Healthy Kids is a twenty-two week, hands-on cooking, nutrition, and physical activity program. Currently LHK is taught at the second grade level for one hour a week over eleven weeks each semester, preparing foods from around the world, introducing them to other cultures and healthy eating styles. The children are involved in the preparation and cooking of the weekly recipe, and then enjoying the fruits of their efforts. A copy the weekly recipe then goes home with each child. All materials and food for each session is provided by the LHK staff. At years end a Live Healthy Kids Cookbook is compiled with all the years recipe's and we have Live Healthy Kids Night where families are invited for activities and dancing, and to enjoy foods from across the globe. We celebrate LHK in style.  
What Teachers Are Saying
"The children get to try foods that they otherwise may never taste. Most of the time they discover that they like these new foods.  I really like the geography & cultural lessons that they receive. The children love this program! Thank you!"
"I think this program encourages students to try new foods. They seemed more likely to try more fruits and vegetables, as well as talk with their parents about the recipes they had been trying at school."
"I believe they have a big impact on what the kids learn about new foods and their behavior."